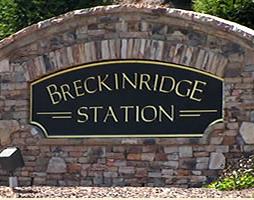 Breckinridge Station features 398 townhomes and single-family homes. Breckinridge Station is minutes off I-85 near Gwinnett Place Mall, and is also close to restaurants, movie theaters, schools and commuter routes. The community includes a swimming pool with a slide, and a clubhouse.
Breckinridge Station's single-family homes are two stories with up to four bedrooms. Many plans include first-floor master suites, loft spaces, formal dining rooms and soaring two-story family rooms. All include garages for one or two cars. The townhomes of Breckinridge Station also offer one-car garages, and include such sought-after features as vaulted ceilings, formal dining rooms and extensive wood trim. Breckinridge Station townhomes offer up to three bedrooms.
Breckinridge Station is energetic, exciting and architecturally diverse - almost like a small town of its own.
Breckinridge Station of Duluth, GA is a gated community boosting town-homes, single family homes and a large amount of green space. Breckinridge Station is one of the first of its kind in Gwinnett and does an excellent job of blending individuals from all stages of life (i.e. young up in coming individuals and couples to our more seasoned and established)
Breckinridge Station is located within the Pleasant Hill Shopping district and is minutes from many restaurants, great shopping, several theaters, and Gwinnett schools. Without question our location is one of our greatest assets put us away from the action but conveniently close to the action.
Breckinridge Station onsite security unit provides vacation home watch, Elderly well being daily check and school bus stop monitoring. The pool is visible from our internet site allowing our residence to see if it their neighbors are having fun, the executive clubhouse is available for private parties, conferences, meetings and is used for community events (i.e. super bowl party, food tasting, trick or treat central, and weekly workout classes), last but on least our fitness center is open from 5:30am to 10pm allowing our resident ample amount of time to get their workout in.