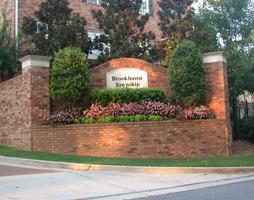 Established in 1998, Brookhaven Township Atlanta Townhomes consist of 51 Townhome units ranging from 2-4 bedroom floorplans. Each unit has 1-2 car attached, covered garages, outdoor balconies, multiple floors and a variety of plans to choose from.
Brookhaven Township homeowners enjoy luxury beyond anything with security gates, landscaping and exterior maintenance already provided, and the peace and privacy of a dependable community. Brookhaven Township is a a very close-knit community that participates in progressive dinners, walks to nearby stores and restaurants, and the frequent conversations that take place across patios. And, living inside the Perimeter, we enjoy all the luxuries of Fulton County and the breaks of Dekalb County taxes. It's the best of both worlds.
Brookhaven Township provides the safety and intimacy of a beautiful home for new families and single homeowners looking for the locality of a major urban center but the peace of a suburban neighborhood.
In a world of cookie cutter neighborhoods, Brookhaven Township Atlanta Townhomes provide maintenance-free floorplans that are as unique as you are. Brookhaven Township is located in the heart of Brookhaven, with easy access to MARTA, Buckhead, Downtown, Midtown and a host of other cultural venues. Our suburban feel comes maybe from the sense of quiet that homeowners describe, or maybe from the abundant and detailed landscaping, or maybe the sense of space that escapes denser in-town development. It's just here. At Brookhaven Township, you may leave behind a lawnmower, but not the scent of fresh cut grass. Welcome to Brookhaven Township!