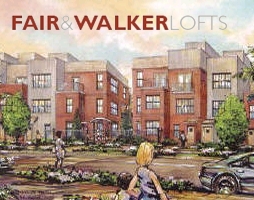 Fair & Walker Lofts is a progressive idea in urban living that offers dramatic designs with a delicate balance of community atmosphere, fabulous living areas and potential retail places. Fair & Walker Lofts is the Future of Live / Work Lofts in Castleberry Hill, Atlanta's authentic loft district.
Built to mimic the character-rich surrounding structures, Fair & Walker will be a charming addition to Atlanta's fastest growing art district. This unique live/work concept will be a community within a community, combining storefront capabilities with residential comforts and urban loft sensibilities. Transforming this industrial district into an exciting amalgam of affordable town homes, retail and office use.
Located on the southwest corner of the streets from which it takes its name, Fair & Walker Lofts is actually divided into four smaller blocks, providing more end units and more opportunities for green space. Predominantly townhome style construction, the exterior metal siding and brick will vary, in keeping with the historic tradition of Castleberry Hill. Townhome units will have live/work potential, with a storefront appearance on the ground floor of each three-story loft style unit. This space is equally adept as a home office, living space, or simply a grand entrance in which to receive guests. Twelve of the thirty-six units will be interior flats with convenient surface parking, while the twenty-four townhome units feature attached garages, most of which border the sidewalk.
Castleberry Hill Historic District was once a bustling industrial center. It is now Atlanta's newest bustling art district, with tantalizing restaurants, funky coffee houses and a growing list of the city's most eclectic art galleries. The city's first and largest loft community, the area now claims over 900 residents occupying more than 500 lofts. Less than a mile from CNN Center and Philips Arena, Castleberry is experiencing tremendous growth not only in residential development, but commercial and pedestrian life as well.
Centered in the densely urban Castleberry Hill arts district, the Fair And Walker Lofts blend the capabilities of live/work storefronts with urban loft sensibilities and modern amenities. The development site was subdivided to maximize green space and offer both numerous end units and city views from multi-level terraces. Brick and stucco with industrial metal windows and metal storefronts at the ground plane blend with the historic character of the neighborhood.