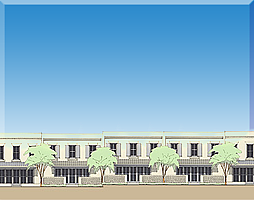 Forrest Commons offers beautiful single family homes and townhomes within walking distance to the shops and restaurants in Historic Roswell. The homes and townhomes in Forrest Commons are well-appointed with energy efficient features, open floorplans and the high level of finish you can expect from Monte Hewett Homes. The Forrest Commons community features a gazebo, green space and a community garden area.
Located just minutes to GA 400, Forrest Commons homeowners have easy access to nearby job centers and into downtown Atlanta. Forrest Commons is a walkable neighborhood, only .5 mile to the shops, restaurants, galleries, City Hall, Cultural Arts Center and the library in historic Roswell.
Forrest Commons is an enclave of homes and townhomes with incredible walkability to the popular Canton Street area of historic Roswell. Homeowners will enjoy the unique community pavilion and outdoor fireplace along with the neighborhood garden. The single family homes feature large porches and landscaped yard bordering the central garden. The townhomes include private courtyards for relaxing and entertaining.