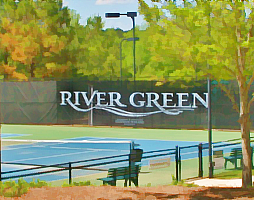 Franklin Park At River Green is a beautiful master planned community located in Cherokee County in the city of Canton, Georgia. Franklin Park amenities include an on-site activities director, two aquatic centers, two clubhouses, ten tennis courts, miles of walking trails and greenspace. Franklin Park At River Green townhomes offer a distinct Craftsman style with up to four bedrooms with a Master on the Main plan available, and two car attached garages.
Ideally located in the Canton area, this established community is a favorite. "Where metro meets the mountains " Moving at a big-city pace, Canton still embodies small town charm. An area once home to the Cherokee, the stories are preserved through the arts, festivals and the Funk Heritage Center, Georgia's Official Frontier and Southeastern Indian Interpretive Center in nearby Waleska.
A variety of restaurants and lodging make Canton a great place to stay while exploring sites and attractions including Cagle's Dairy, hiking and biking trails at Reinhardt College, and a 10-acre Wild West Town with more than 100 inhabitants - all of them miniature farm animals! The Canton Theater and Cherokee County Arts Center feature entertaining performances throughout the year.
Nearby attractions include Amicalola Falls, Tellus Science Museum, Red Top Mountain, Appalachian Trail,Kennesaw Railroad Museum, Kennesaw Civil War Museum and so much more.