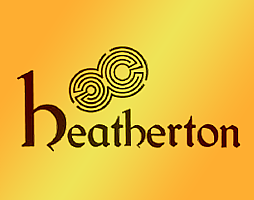 Homebuyers searching through the labyrinth of North Fulton communities can escape to serenity at Heatherton, where a unique blend of 2-story Manor and Courtyard Homes and 3-story Townhomes surrounds a tranquil park. This one-of-a-kind space features a formal maze of neatly trimmed hedges.There, residents can getlost in peaceful time with family or with nature, while pressures of work and the city fade away. As they reach the end of the maze, they will come upon a stunning obelisk and sundial.
Heatherton homes and townhomes themselves provide a welcome retreat, too, recalling a refined Southern manner while contributing their own sophisticated style. Designed especially to reflect the Heatherton spirit, they showcase the rich influences of Shaker, Colonial Revival and Williamsburg architecture. Each home is accessed by a rear-entry garage, so only the elegant, columned front porches great guests. The townhomes also reflect the community's peaceful nature. Two parks, sidewalks and a community pool offer plenty of opportunities to enjoy the outdoors.
Heatherton is located in Roswell near Holcomb Bridge Road and Georgia 400, Heatherton is as easy to reach as it is to love. Two entrances from secondary streets and direct access onto Georgia 400 South make Holcomb Bridge Road traffic avoidable. The community is convenient to metro Atlanta's most popular shopping and dining opportunities and a short drive to the beauty of the North Georgia mountains.
Heatherton is a 95 lot residential subdivision with a mix of single family homes and town homes. The community is private and gated with extensive landscaping and amenities. All homes are constructed by Monte Hewett Homes. A swimming pool, a large astronomical clock and open areas maintained by The Heatherton Community Association.
Heatherton is located in the City of Roswell in Nouth Fulton County. It is located on Dogwood Road in the SW quadrant of Holcomb Bridge Road and GA 400. A dedicated ramp to southbound GA 400 is within 200 feet of the secondary entry gate. It is in close proximity to shopping and schools in Roswell. Heatherton is the closest development in Roswell to Perimeter Mall and the Buckhead Financial Center.