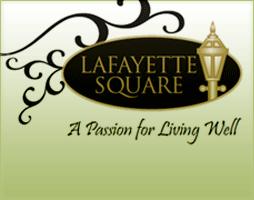 Lafayette Square is a place of lively conversation with friends and a glass of wine - where recipes come to life and good books never collect dust - where morning jogs revive and evening strolls unite. But most of all, home is where the good life begins. Introducing Lafayette Square, a unique collection of luxury Atlanta townhomes architecturally inspired by New Orleans's French Quarter. Located on Spalding Drive just off the 400 corridor in Sandy Springs, these 2 and 3 bedroom townhomes toast the good life with an eye for detail and timeless design. Each residence is plush with interior features, and the property itself is next door to a wonderful neighborhood swim and tennis club. With a residence at Lafayette Square, you'll own the perfect home to fuel your passion for living well. Because nothing less will do.
Lafayette Square's location puts all the conveniences of Sandy Springs and the surrounding communities at your door step. Live a mere 5 minutes from Perimeter Mall, 10 minutes from Phipps, and 20 minutes from downtown Atlanta. Or take MARTA for a quick trip to the airport. Escaping to nature is easy along the nearby Chattahoochee River with endless opportunities to fish, hike, boat, jog or just get away from it all on a riverside bench. Numerous local events and entertainment venues complete this fine tapestry of convenience and culture.
Distinctive architecture and a strong sense of design is what truly separates Lafayette Square from surrounding developments. Drawing inspiration from the architectural appeal of New Orleans' world famous French Quarter, Lafayette Square is unique for the area with its lacey wrought iron porches, multiple roof dormers and elegant flourishes. The interiors are no less designed to impress with fine finishes, large master suites, gourmet kitchens and ample windows to bathe each room with a shower of light. When you're here it doesn't take long to realize that this is more than a home; it's a work of art.