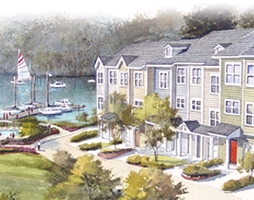 Laurel Park at Lake Hartwell has captured the spirit of life on the lake in a new resort townhouse community. Lake Hartwell with a shoreline of 962 miles and located only 100 miles east of Atlanta provides the perfect setting for this exclusive getaway. If you have a passion for water, Lake Hartwell's 55,590 acres of water is your perfect destination. Year after year your family can return and immerse themselves in an array of lake amenities and activities.
As soon as you arrive you know you have found a community up to your standards. The grounds are fully landscaped with a community pool and a courtesy swimming dock. The community dock will have individual boat slips on Lake Hartwell.
Each three-story unit has 3 bedrooms, 2 bathrooms, 2 back decks and 1 patio, 9' ceilings, and an unfinished rec room. From the hardwood floors, ceramic tile and wood trim to the Euro style kitchen your family will feel right at home in your Lake Hartwell exclusive community.