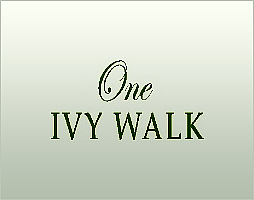 Less than one mile outside I-285, One Ivy Walk is a mixed use destination that affords a lock-and-go active lifestyle with exclusive townhome living and first-class amenities onsite. Behind the entrance gates, you'll find a very special place, as One Ivy Walk was designed to be in partnership with a globally recognized land-planning firm that helped to create a one-of-a-kind, vibrant community setting. Every convenience is within easy reach, and a variety of onsite retail brings essential services to your doorstep.
Charming streetscapes feature distinctive townhomes inspired by the brownstones of the Northeast. One Ivy Walk townhomes feature thoughtful architectural detailing and modern appointments, such as energy-efficient dual heating and A/C systems, gourmet kitchens with granite countertops and custom cabinetry. One Ivy Walk's innovative homes offer cozy sitting rooms, expanded decks for entertaining, luxurious spa baths, finishable bonus spaces, two-car garages and fine appointments.
Ivy Walk's prime location puts all areas of Atlanta within reach including downtown, the airport, Buckhead and the great shopping and dining options of Lenox Square and Phipps Plaza. Exceptional local shopping is just minutes away at exclusive Vinings Jubilee and in historic Vinings.
Discover the perfect blend of intown location, lifestyle and luxury without the city taxes or congestion at One Ivy Walk, the best of Vinings living from Atlanta's leading homebuilder.