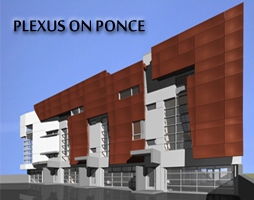 Plexus offers distinctive intown living in a modern, contemporary loft which is unlike any other. Steel and copper accents depicts the impressive features of Plexus.
At Plexus on Ponce you have intown community living which is unrivaled in Atlanta, with fine dining, unlimited shopping, public parks and both the Virginia Highlands and Little Five Points entertainment districts at your doorstep.
The architects' goal was to give people who want to live in the Atlanta-midtown market something unexpected and exciting. Not only do you get to live in the exciting Virginia Highlands district, but you will live in one of the most architecturally unique buildings in Atlanta. Plexus will be one of the landmarks for the Atlanta design market for years to come.
This is not the traditional living which everyone has, or is this an older building which has been renovated. Plexus is truly a unique structure for the Atlanta market. Something unexpected. These two story lofts not only provide you a loft home unlike any other, you live only minutes from everything in Atlanta.
From the time you step into the door at Plexus you are in a loft that is like no other.
The foyer is open for full three stories. From the main level you can see two stories up to the open roof top deck. The windows from the roof top deck look inside, into the loft, which is a story and a half above the main living area. The bedrooms are some of the most unique living spaces in the Atlanta market today.
Each townhome loft includes an open air kitchen with an elevated living space which soars up to the master bedroom and loft areas. The expansive living and dining room, the two bedrooms the two baths and two half baths are illuminated with natural light from the open windows which cover the entire front of the main living area.
The lofts contain additional bonus areas which overlook the living areas below, but maintain their privacy with short walls. This space is perfect for an office, library or as a guest bedroom.
Features like all maple hardwood floors, stone countertops, stainless steel (or black glass) appliances, contemporary lighting, definitively bold and unique bathroom vanities only begin to set these lofts aside from any other. Add to that the gourmet kitchen, built-ins throughout, a two car garage, roof top decks, enclosed terrace, a balcony and a patio yard and you will find yourself in one of the finest designs in the Atlanta market.
This facility has been designed by the Internationally Recognized Architectural Firm of Plexus r+d. With this building's dramatic interiors and unrivaled exterior design, it will set a new luxury standard of living in Atlanta.
The future is here.