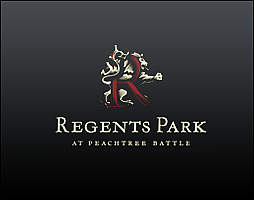 Regents Park at Peachtree Battle is a collection of 23 flats and townhouses that cost up to $4 million a unit. The flats range from 4,200 to 4,600 square feet and the townhouses are 5,000 to almost 7,000 of space. The units have garages and private elevators and there will be a 24-hour security guard and some concierge services. The complex is yet another in a line of luxury complexes we have seen meant to offer empty nesters a fancy home without the worries of the upkeep of an estate. Eight of the units have already been sold and construction has just begun.
Developed by Carter, Atlanta's oldest and largest privately held full-service commercial real estate company, and designed by notable Atlanta residential designers Pak Heydt & Associates and Rule Joy Trammell+Rubio as architects, Regents Park Buckhead offer an echelon of convenience, elegance and privacy never before available in Atlanta-creating a simpler lifestyle without sacrifice, surrounded by familiar people and places.
Deeply rooted in one of the most prestigious and historic neighborhoods in the country, Regents Park is located within walking distance of shopping, the finest restaurants and many other points of interest. The Peachtree Battle area of Buckhead retains its appeal due to the conveniences and uniqueness it offers.
Regents Park has a guard house with 24-hour security. All homes contain Sub-Zero refrigerators, Wolf ranges, Rutt cabinetry, Kohler and Rohl plumbing fixtures, and marble, limestone, or granite countertops in kitchen and baths. Each unit has a 3-car garage and private elevator, 11 foot ceilings on the main fl oor, French casement Loewen windows, ample storage, an outdoor space equipped for a gas grill, and a fireplace for wood or gas logs. The property also enjoys a beautifully manicured 1-acre park, with a rolling stream and walking trail.
The majestic townhomes and flats of Regents Park are designed for entertaining in elegant style as well as accommodating family life. Each home has a private outdoor terrace offering lush respite and reflection, while the manicured, private half-acre park satisfies the urge for a stroll or a rendezvous with nature. Representative examples of these efficient floorplans are available for both the townhomes and flats.