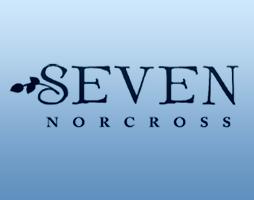 Located a leisurely stroll from downtown Norcross, Seven Norcross is a charming turn-of-the-century style neighborhood set in the Norcross Historic District. Named for the community's seven parks, Seven Norcross was designed to fit with the small town feel already established in the neighborhood, giving the impression that it has been a part of Historic Norcross for ages.
Featuring a combination of 158 artfully designed homes, townhomes and stacked flats, Seven Norcross merges old world charm with the best of today's luxuries including oversized kitchens featuring custom cabinetry and state of the art appliances, flexible living spaces and increased energy efficiency. The blend of unique residences, green space and lush landscaping seamlessly coexist within the charm of Historic Norcross.
The thoughtful layout of amenities - which include a children's playground, firepit and zero-entry swimming pool - rivals the features of the homes themselves. In the nearby Historic District, homeowners will find fabulous restaurants, wonderful boutiques and a small town coffee shop all just footsteps from their front door.
Whether you desire a Colonial Revival or Queen Anne style home, a townhome with a private courtyard, or a maintenance free flat, Seven Norcross provides a wide range of choices to complement your lifestyle. Welcome to Seven Norcross and Welcome Home.
Seven Norcross is within walking distance to downtown Norcross with quaint shops and restaurants and also offers home owners a neighborhood pool, bathhouse, playground, fire pit and seven parks.