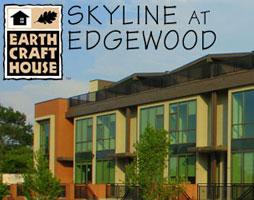 Located in Inman Park, Skyline At Edgewood feature 12 modern townhomes designed to best reflect their surroundings while making use of high-quality, commercial grade materials. eatures include rooftop terraces, storefront glass, open floorplans and beautiful skyline views of Atlanta.
The nearby Edgewood Retail District provides tenants with essential stores like Kroger, Lowe's, and Target. The pedestrian-friendly shopping area also has a variety of restaurants and small shops.
Other eclectic and entertaining districts, including Little Five Points, East Atlanta Village, and the Highland Avenue Corridor are also nearby. With downtown Atlanta only a few miles away, Skyline At Edgewood is optimally located for the urban dweller.
Skyline At Edgewood is handsome, stylish and, most importantly, comfortable for living. The open floor plan adds a contemporary appeal and a greater sense of spaciousness. Rooftop balconies create a comfortable location to enjoy skyline views, while adding valuable outdoor living spaces that are missing from other townhomes.
Skyline At Edgewood balconies have solar shading overhangs, and lounging areas in both the front and rear part of the building. Special attention to the interior finishes set these townhomes apart. Oak hardwood floors are found throughout the units.
Skyline At Edgewood kitchens are equipped with stainless steel Energy Star appliances. The European cabinets have dovetailed self-closing drawers and lazy susan corner cabinets. The glass and stainless tile backsplashes, brushed nickel hardware, and imported Brazilian granite countertops finish the kitchen beautifully and showcase the importance of craftsmanship and attention to detail.
Skyline At Edgewood master bathroom has a frameless glass shower enclosure with lavish overhead rainshower with multiple body spray streams. An expansive soaking tub makes the room inviting and peaceful. Quartz countertops and custom tile flooring continue the indulgent atmosphere.
Skyline At Edgewood is the perfect in-town dwelling for those looking for quality, beautiful, upscale homes. Its optimal location paired with attractive design and luxurious features will make anyone feel at home.
Skyline At Edgewood is a collection of eight Atlanta townhomes in Atlanta?s Edgewood neighborhood, with 4 additional townhomes scheduled to be built in late 2011. Skyline At Edgewood modern townhomes feature the hallmarks of modern design, including open floorplans, high-quality, commercial-grade roofs, concrete, commercial windows and doors, concrete siding, and energy-efficient HVAC systems. The flat roofs of these modern townhomes create additional outdoor living spaces with skyline views, while maximizing the usable space inside the units. Additional features in these Atlanta townhomes include gleaming hardwood floors, spacious tiled baths, open floorplans, and rooftop decks with Downtown skyline views. Access to the Atlanta Beltline is literally across the street from your door, providing unlimited access to all the city has to offer.