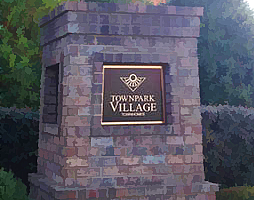 Townpark Village is part of a new lifestyle that is evolving in north Atlanta. The concept of community in a traditional sense is re-emerging with a modern angle of convenience and easy access to amenities. Walking access to shops, restaurants and parks is no longer exclusive to metro Atlanta. Residents enjoy an easy walk to retail shops, restaurants and cafes at The Village at Townpark around the corner.
New options on how you can live, work and relax are evolving in Kennesaw. Situated on a 243 acre campus, Townpark Village Townhomes offer residents walking access to restaurants, coffee shops, professional offices and multiple green spaces. Townpark was designed to provide and easy balance of classic style, modern convenience and traditional value in one of north Atlanta's best locations.
Townpark Village Townhomes are located close to Kennesaw State University, the Town Center retail district, Kennesaw Mountain National Park, McCollum Airport and the growing corporate hubs near I-575 and I-75. Each townhome is built on 3 levels with 3 bedrooms, 3.5 baths, hardwood floors and 10 foot ceilings and terraces on the main level. Sophisticated master suites include a sitting area, Lube Italian vanities, jetted tubs and luxury showers.
Townpark Village Townhomes has been designed to leverage the optimal benefits of modern building technology while projecting timeless classic style. Front entrances are accented with wrought iron railings, covered porticos and arched window accents. Some homes have wrought iron Juliette balconies off of the dining room. Expansive rear decks are built to the full width of the home and are designed with privacy walls and wrought iron railings. All homes are three sided brick with Hardie siding on the rear exterior walls.
Townpark Village Townhomes have been designed with all available modern building advantages and conveniences. All incoming service ports from phone, data, electricty and water have been configured for easy and convenient access without being obtrusive. This includes steel carriage style automatic garage doors, painted aluminum gutters and pressure treated decks.
Townpark Village Townhomes residents enjoy the benefits of being less than a mile from Kennesaw State University, Georgia's second largest university campus and close proximity to McCollum Airport and Kennesaw Mountain National Park. Townpark is one mile north of Town Center at Cobb, a regional shopping mall with more than 180 department stores, shops and restaurants. Another 1.5 million square feet of ancillary retail surrounds the mall, offering tenants of Townpark convenient shopping and dining alternatives. A relaxing 20 minute drive north takes residents into the North Georgia Mountains and an easy drive south puts residents into the heart of metro Atlanta.