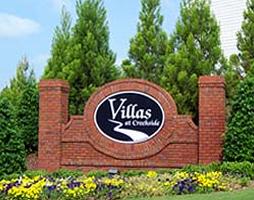 The Villas At Creekside townhomes are strategically located on the east/west connector about 1 mile outside of I-285. Villas At Creekside owners enjoy access to the famed Silver Comet Trail, which runs behind the community.
While offering fewer upgrades and a smaller footprint than their larger sister community, Villas At Creekside has exceeded all expectations in design and layout and quickly became one of Ashton Wood's most successful projects.
Floor plans in Villas At Creekside offer large open kitchens with islands that are much larger than the luxury single-family home kitchens built by the same builder. Add 9 foot ceilings on all floors, vaulted ceilings in the master bedroom, jetted bathtubs, double crown molding and a host of upgrade options and you just might find yourself having a hard time deciding which community you wish to purchase in.